Carlton Davis Is Injured
October 25th, 2020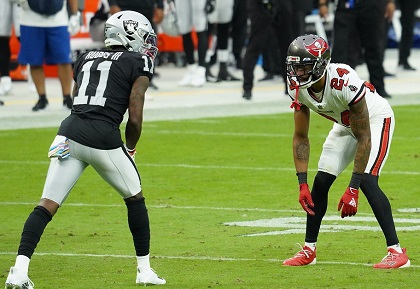 Bucco Bruce Arians made an interesting comment about cornerback Carlton Davis last week and it has fresh meaning tonight.
Arians referenced how Davis is doing a much better job this season playing through pain.
Before the Packers clobbering, Davis missed practice time with an abdominal injury. Last week, leading up to today's chain-whipping of the Raiders, Davis was on the Bucs' official injury report with a knee injury.
And late in the third quarter in Las Vegas, Davis left the game with a chest injury.
No, Joe's not calling Davis injury-prone, and this was Davis' second consecutive game without a penalty. Hooray!! But Davis now has another injury to fight through to get back on the field.
Arians is right. Great players find every way they can to get on the field, which includes pushing uncomfortably through injuries. Just ask Derrick Brooks or Rondé Barber; they'll tell you all about it.
Joe's not calling Davis a great player, but Arians continues to say he's one of the best cornerbacks in the NFL. And with that label comes an expectation to be on the field at all costs.
While Joe would love to see the Bucs rest two of their many wounded warriors next week against the Giants, it's just not how the NFL operates, at least not until you clinch a division crown.