"Team To Beat"
October 27th, 2020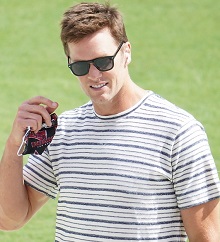 Yeah, yeah, yeah. The Bucs are 5-2, not 10-2. Lot of strong teams remain on the schedule. Still, Joe's having fun playoff and scoreboard watching.
The last time the Bucs jumped out to a 5-2 record (2010)  the Bucs finished with 10 wins but lost a tiebreaker for a wild card berth.
Clark Judge, who writes for SI.com, in his weekly NFL notebook, says Bucs fans shouldn't be concerned about playoff tiebreakers. Judge types that the Bucs look every bit as one of the best teams in the NFL.
Tampa Bay is beginning to look like the team to beat in the NFC. I know, the Bucs are 5-2, while Seattle and Green Bay each has one loss. But look what's going on here. Brady is Tom Terrific again. Gronk is Gronk again. The Bucs just added Antonio Brown to a stable of wide receivers that includes Mike Evans and Chris Godwin. Their defense looks better than any they've had since the Sapp/Brooks/Lynch defenses of the early 2000s, with linebacker Devin White producing three sacks Sunday. And they just waxed Green Bay and Las Vegas in consecutive weeks by a combined score of 83-30. In short, the Bucs have all their bases covered.
Man, reading this made Joe just want to start chugging Big Storm Brewing beer.
With so many teams at 5-2 (including the Bears who beat the Bucs), the best way for the Bucs to secure a playoff berth is to win the darn NFC South.
A rematch against the Saints is in two weeks in Tampa. It's a Saints team that suddenly looks vulnerable. How cool would it be to drop the hammer on Sean Payton and the Saints at home?
First thing first. Gotta knock off the Giants on Monday night.