New Territory, Congratulations For Bruce Arians
October 27th, 2020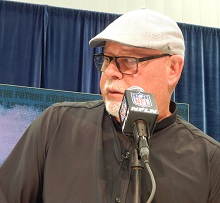 Joe eagerly awaited this glorious time, when Bucs fans could step out of the football-fan hell Jason Licht and Mark Dominik artfully crafted for 11 seasons with a little help from Team Glazer, who used to dance on the league salary floor before big spending became mandatory.
These past 48 hours, Joe feels like a guy who's been wearing a mask all day at work and then gets to go outdoors, rip the mask off and have an airgasm.
Winning is liberating and invigorating.
Joe brings this up today because Bucco Bruce Arians, for the first time, is a winning coach in a Buccaneers uniform. He's got a 12-11 record since getting hired in Tampa.
That's rare air. Only Jon Gruden (57-55) and Father Dungy (54-42) have winning regular-season records as Tampa Bay head coaches.
What's crazy to consider is this could be Arians' last season.
If the Bucs march their way to a Super Bowl win, Joe suspects Arians would leave for a permanent trip to his Georgia lake house after the parade down Dale Mabry Highway (also known as Bill Currie Ford Boulevard.) And, (gasp!) Joe suspects that would mean retirement for Tom Brady, too.