Smoother Sailing For RoJo
October 13th, 2020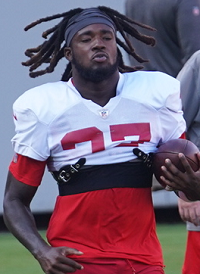 Fun fact, which running back most often ran against 8-or-more defenders in the box last season, Peyton Barber or Leonard Fournette?
The correct answer is Barber.
That's right. Despite the Bucs' having the No. 3 passing attack in the NFL and coming of a season in which Ryan Fitzpatrick and Jameis Winston combined to throw for 5,358 yards, defenses didn't show the passing attack much respect last season. Or, the Bucs' playcalling was far too predictable.
This year, Fournette celebrated at the thought of playing with Tom Brady, as Fournette believed his hearty diet of 8-man boxes in Jacksonville would be curtailed.
Barber saw 8-man (or more) boxes on 33.1 percent of his Bucs carries last season, per NFL official stats, and Ronald Jones is only seeing that on 23 percent of his rushes this year. That's a significant difference.
It could be a reason RoJo is running with more confidence and production. And it could also mean Tom Brady is getting more respect than the previous Bucs quarterbacks.