Sacks Record In Reach
October 27th, 2020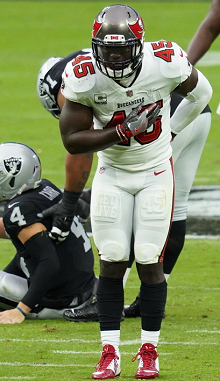 It's been 20 years since the ferocious Bucs defense of 2000 crushed quarterbacks for 55 sacks, an eye-popping total that further cemented the Glory Days defense as a force of its generation.
But guess how many sacks the Bucs are on pace for this season?
Tampa Bay has 25 sacks through seven games, which means it's on pace for 57 sacks. And that's with Shaq Barrett with just three sacks through seven games.
It sure helps to be leading in games and giving the defense a chance to tee off on opposing quarterbacks. For example, take Devin White's crushing hit on Derek Carr yesterday, his third sack of the game. It happened when Carr was scrambling midway through the fourth quarter and desperate to make a play to get the Raiders back in the game.
The Bucs sacks have been coming from all angles, with Jason Pierre-Paul leading the way with 5 1/2 and a whopping nine players have more than one sack.
The balance, diversity depth of the Bucs defense has been so impressive. The loss of Vita Vea has meant nothing on the field, the linebackers are everywhere and the young secondary is taking advantage of the QB pressure.