Penalty Prone
October 8th, 2020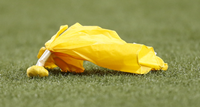 The way this is going, Team Glazer may want to add a fourth uniform design to the Bucs' ensemble: Flourescent yellow to acknowledge their penalty ways.
The Bucs went penalty crazy tonight. They got slapped with 109 yards worth of penalties, getting flagged 11 times.
For reasons not quite clear, per long-time NFL scribe Rick Gosselin, the Bucs have gone from rarely getting flagged, to always getting flagged nearly overnight.
From 2016 through 2019, the Tampa Bay Buccaneers only had one game with 100 yards in penalties. Tonight's game in Chicago marks the second 100-yard/penalty game for the Bucs this season.

— Rick Gosselin (@RickGosselin9) October 9, 2020
The Bucs have 10 days to prepare for the Packers and per new NFL protocols to fight The Sickness, players cannot leave town, not even on a bye week or a long weekend.
Bucco Bruce Arians better figure out a way to cut down on these penalties. Joe doesn't give a damn how many rings your quarterback has, if the team keeps shooting itself in the foot, it will give away games like they did tonight.