On Pace For 44 Touchdowns & 16 Interceptions
October 4th, 2020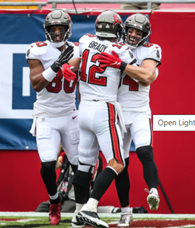 Last year, the Buccaneers' starting quarterback hurled 33 touchdowns and 30 interceptions, hitting the rare 30-30 plateau — and not the Jose Canseco kind.
This year, at the quarter pole of the NFL season, his replacement is on pace to throw 44 touchdowns and 16 interceptions. Now that's a gargantuan difference and exactly the on-field achievement the Bucs were hoping to achieve with their quarterback swap, Tom Brady for the Saints' backup QB.
Brady also is completing 65 percent of his passes, far better than Jameis. And Brady is averaging 39 passes per game (more than Jameis) so it's not like he's relying on a punishing running game and he hasn't had his full complement of receivers in each game.
Yes, the Chargers are a bad team, as was Denver, but the Panthers and Saints are both 2-2 and with talent on defense.
So far, the Bucs have hit the lottery with Brady. Joe's not putting any limits on what Brady can achieve this season. But Joe will be stunned if Brady throws less than 30 touchdowns and more than one pick per game.