Lots Of Work For The New Guy
October 26th, 2020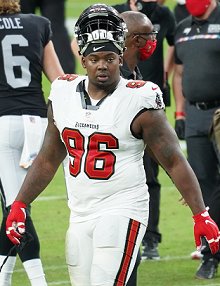 Very cool stuff happened yesterday that many fans gave little attention.
The Bucs' new guy stepped in and looked like he's been around all summer.
At 34 years old, nose tackle Steve McClendon played for the Jets one week ago. The Bucs swapped late-round draft picks for him and poof, he landed in Tampa, got in some practice time and played 38 percent of the defensive snaps in Vegas.
The Bucs' suffocating run defense didn't skip a beat and he racked up four solo tackles and an assist. For perspective, the last time Vita Vea had four solo tackles in a game was in the 2018 season finale.
Of course, tackles don't mean a ton at the position and Joe's not comparing the players, only noting how smooth everyone was for McClendon.
What a pickup!
Joe loves that the Bucs' depth and big leads have afforded key players more rest. For the second consecutive game, Ndamukong Suh played two-thirds of the snaps. That's a significant drop for him and should help keep him fresh for the big games upcoming.