Kicker Watch
October 8th, 2020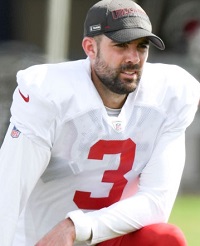 Lost in Sunday's thrilling comeback victory was something that set up the need for a massive comeback.
And Joe will be keeping an eye on it tonight in Chicago.
New Bucs kicker Ryan Succop missed a 44 yard field goal late in the second quarter with the Bucs trailing 21-7. The Chargers then took advantage of the field position, and their ensuing 31-yard drive (not exactly impressive) ended with a 53-yard field goal and a 24-7 lead.
Yes, kicking matters, a fact Bucs fans know well.
Sure, every kicker will miss kicks, but not every kicker plays for the Bucs and their too-long history of a mess at the position.
Joe feels greater confidence in Succop than in kickers of The Lost Decade, but that doesn't say much and he hasn't had a ton of field-goal work this season. Against a very solid Bears defense tonight, Joe expects a few tries from Succop. And Chicago isn't the easiest kicking venue.
Joe hopes, hopes, hopes that Succop gets the job done. If he doesn't, Joe hopes the Bucs are at least looking at kickers over the weekend. This is not a season for playing kicker games.