Ira Kaufman's 10 Takeaways From Bucs-Packers
October 18th, 2020
BY IRA KAUFMAN
For nine days, the Bucs heard all the chatter. The naysayers were out in force, pointing out the relatively easy early schedule and Tampa Bay's self-destructive tendencies.
And then, on a muggy October Sunday, the Bucs buried their skeptics in the soft turf of Raymond James Stadium. For an added bonus, they pushed the smarmy face of Aaron Rodgers into the sod for good measure.
Jamel Dean lit the match and every Buccaneer danced on the flames during a nasty beatdown of the previously unbeaten Packers. The final three quarters ushered in a dominant performance by the home team in front of an adoring crowd.
Any early enthusiasm by Cheeseheads in attendance melted once Rodgers suffered his first interception of the season. The Packers led 10-0 at the time and even though they didn't know it, they would offer only token resistance the rest of the way.
This was the team Buc Nation envisioned once Tom Brady arrived — focused, physical and brimming with talent. The Packers flew home to Wisconsin Sunday evening, probably wondering how Tampa Bay managed to lose two of its first five games.
If this was a crossroads moment for this franchise, the Bucs chose the right path, the one that leads to postseason play. Here's how they ransacked Mr. Rodgers' neighborhood:
* Ronald Jones faced a crisis of confidence following his disastrous rookie season. Instead of sulking, he worked harder. The results have been startling. Jones has transformed himself into a powerful, decisive runner and a 1,000-yard season seems like a mere formality, barring injury. Tampa Bay fans haven't seen running like this since vintage Doug Martin.
* Coming off a subpar effort in Chicago, where Brady was hounded too often, the offensive line offered stellar protection. Brady wasn't sacked and Green Bay managed only four QB hits in an afternoon of redemption. And the run blocking? Not bad, not bad at all.
* Dean deftly sat on that out route by Davante Adams and ran his theft back all the way, right in front of Green Bay's stunned bench. "The pick-6 changed the entire ballgame," said Bruce Arians. It was a big moment for Dean, who might have been Tampa Bay's best defensive player in Chicago. This kid always seems to be around the football.
* It was gratifying to see Lavonte David play so well in a nationally televised matchup, the kind that gets you noticed in Pro Bowl voting. David posted 8 tackles, 1.5 sacks, 2 tackles for loss and 2 QB hits. Not a bad day at the office. Not to be outdone, Devin White chipped in with 10 stops, 3 tackles for loss and another 2 QB hits. Rodgers will likely be seeing the Blitz Brothers in his sleep the rest of the week.
* Zero penalties? That has to be a mistake. Now head out to Vegas and double down on that aversion to flags.
* The Packers had scored at least 30 points in each of their first four games, so Todd Bowles faced a difficult test. He aced it. Bowles blitzed 17 times, sending extra pass rushers from all angles, and the results were spectacular. Rodgers finished with a passer rating of 35.4. That was also the speed on some of the passes he fluttered under intense pressure.
* Green Bay's final 10 drives ended with two picks, seven punts and a short possession that went nowhere near the end of the opening half. That, my friends, is as close to a perfect final 45 minutes as you will see any defense display this season. And all this on a day Shaq Barrett didn't even make the post-game stat sheet.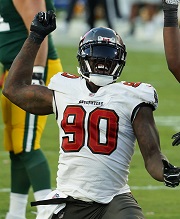 * Tampa Bay's physicality was on full display. The Bucs bullied the visitors all afternoon — without drawing the attention of the officials. That's a delicate balancing act. Helmets off to Jason Pierre-Paul, Ndamukong Suh and William Gholston for setting an aggressive tone up front. And let's say it again — nobody runs on the Bucs. Just ask Aaron Jones.
* The Chicago game was a bad loss. This was a great win. It was great because 4-2 looks and feels a lot better than 3-3. It was great because these players now realize what the Bucs are capable of, even against a quality opponent. Finally, it was great because the conversation will now be about those glorious final three quarters instead of Brady's four fingers.
* As for Rodgers, there's no doubt the guy is a great front-runner. When things are rolling for the Pack, he carves you up, accompanied by that annoying smirk. But when times get tough, he gets that sad-sack look. He starts feeling sorry for himself and that's why I can't rank him as one of the 10 best quarterbacks in NFL history, no matter how dazzling his career passer rating mark might be. On the 1-to-10 leadership scale, I'm giving Rodgers a 2, just ahead of Brian Griese.
---
Join Ira and JoeBucsFan next Sunday night for the Bucs-Raiders game at Big Storm Brewery in Clearwater. 
Indoor and outdoor covered seating.
Fired up Bucs fans in the house!
.