Tom Brady On Pace For 37 TDs, 10 Interceptions
October 18th, 2020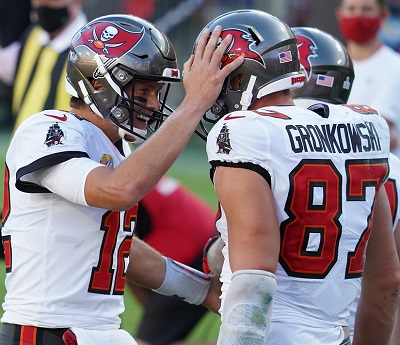 If it's still unclear for anyone why the Buccaneers rejected the Saints' backup quarterback for Tom Brady, Joe's not sure what to say.
Last year, Jameis Winston gave the ball away to opposing defenses like it was Halloween candy. Sure, the Bucs coaching staff and a crap running game did the guy no favors. But nobody ordered Jameis to make horrid decisions and throw 30 interceptions.
In comes Brady, and the guy doesn't force a screen, doesn't feel pressure to make throws that aren't there, and he stays patient when it comes to deep shots. And like magic, the Bucs aren't handing over the ball a Rays fans throwing confetti.
Through six games, Brady is on pace for 37 touchdowns and 10 interceptions this season. Assuming he stays on pace or, say, finishes with 32 TDs and 12 picks, the Bucs haven't seen a season like that since Josh Freeman shocked the NFL with 25 touchdowns and 6 interceptions in 2010.
Joe is really enjoying the peace of mind that comes with this kind of quarterback play. And a play that will be deservedly overshadowed in today's blowout win was Brady throwing an absolute precision rope to Scotty Miller on a deep ball late in the third quarter. Miller drew a 40-yard pass interference penalty and two plays later Ronald Jones had a 1 yard touchdown run.
Yeah, Brady took a long time to throw the home run ball … because he didn't have to and didn't force it. And when it did come, it was a thing of beauty.