Five Things
October 9th, 2020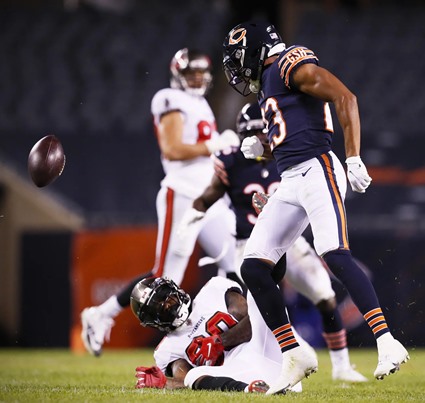 Just an ugly night in Chicago. Let's get this over with so we can focus on happier things today, like buying beers at Big Storm Brewing.
Bucs quit on RoJo
Now look, Joe roots for every player who wears a Bucs uniform. Play Hall of Fame level, if possible. Everyone.
And Joe's main motto is "Production, production, production." Joe doesn't give a damn where you were drafted; doesn't care where you went to school; doesn't care who you vote for; doesn't care about your personal bedroom proclivities; doesn't care if you never work hard or work your fingers to the bone.
Just produce. That's all Joe wants (and expects!) a player to do and all Joe cares about. Get enough players who can produce, especially at key positions, and wins are easier to come by.
On the field, produce or step aside. Joe is no more complex than that in goals and standards for Bucs players.
So for reasons Joe isn't sure of, many Bucs fans want to slit Joe's throat and break his kneecaps because Joe didn't get on his knees and slurp Ronald Jones solely because he wore a Bucs uniform. Joe was not impressed with Jones in the least bit through his first 34 games (34!) because — wait for it — he didn't produce. That's all there was too it.
Against the Chargers, Joe was impressed by how Jones ran up the gut, a trait Joe never thought the guy had.
Even then, when Joe tried to give this RoJo a legitimate compliment, saying the way he ran up the middle he looked like a good fullback, Joe's haters went after Joe on social media as if Joe advocated for RoJo to be jailed.
Last night, Joe (for the time being) has come around on RoJo (so long as RoJo has come around). He was excellent again, particularly running inside and twice making stud Bears linebacker Roquan Smith look the fool.
So with Donovan Smith and Ali Marpet and Ryan Jensen blowing holes wide open on the left side to run through, someone on the Bucs' sidelines pulled the plug on RoJo.
Why?
Despite RoJo getting loose, the Bucs never got more than two field goals after taking a 13-0 lead midway through the second quarter.
"RoJo has had a good season and he will continue to get better," Bucs coach Bucco Bruce Arians said after the game.
On first down at the Bucs-37 with 10:28 left in the game and the Bucs down by one, RoJo ran twice in a row gaining 10 and 4 yards.
He only ran the ball two more times (for no gain) the rest of the game.
You always hear coaches talk about other players need to "step it up" when others go down with injuries, right? The Bucs, it seems, have nothing but injured receivers. So when a guy actually does "step it up," why would the Bucs pull the rug from underneath him?
Here you have a guy in RoJo getting chunks of yards; he was big-time heating up in the second half. And instead of feeding the guy the ball the Bucs starting having park-violating, home-invading, NFLPA-ignoring Bucs quarterback Tom Brady largely throwing to guys who were either hurt (Mike Evans) or never-beens (Jaydon Mickens).
Why? That makes no sense to Joe.
Joe is a big believer in feeding the hot hand. And in Joe's eyes, RoJo not only was having his best game as an NFL running back, he was red hot.
Joe understands Bucs fans want to blame the refs for the game. Perhaps. Joe can understand the aggravation over yellow flags.
To Joe, a big red flag was when the Bucs quit feeding their best offensive player of the night the ball when they needed just a field goal.
#ItsABucsLife
A few years ago the Bucs trotted out their annual marketing slogan. Joe has no idea why teams do this because these slogans more often than not are silly and don't make sense. Joe has yet to meet fans who claim they bought season tickets because the annual marketing phrase was so cute or clever.
But teams (nearly every in professional sports) seem to take it real seriously and apparently invest hundreds of thousands of dollars in research to try to find the most attention-catching phrase.
Yes, really.
So in the depths of the Lost Decade, the Bucs came up with "It's a Bucs Life!" Joe guesses this was to highlight how fans live, eat and breathe the Bucs.
Someone must have overlooked the tiny truths that the Bucs were a laughing stock at the time, season ticket sales were plummeting and more and more Bucs fans turned to binge drinking to numb themselves from all the pain of watching the Bucs constantly step on a rake each and every Sunday.
Joe once used that phrase sarcastically in an article explaining how "It's a Bucs Life" is a losing life, etc., etc… Boy, did that hack off the wrong people at One Buc Palace. Joe heard about that — on a summer Sunday afternoon no less! It was one of the more pointed attempted slapdowns Joe ever got from a team suit.
Well, soon after that marketing phrase became a hashtag for fans, sort of like #BlameJameis became. For every key fumble, pick, bonehead play, blown PED test, holding call, you name it, fans took to social media, almost like in an audible group sigh, and used the hashtag "#ItsABucsLife."
That hashtag came to mind last night when Joe saw a pass targeting Cam Brate over the middle land incomplete for the final play and Brady, standing on the field with a look on his face of total bewilderment, held up four fingers as if to say, "It's fourth down, right?"
No, sorry Tommy. Your pass to Brate was fourth down.
#ItsABucsLife
Now after the game, Arians said Brady knew what down it was but damn near everyone watching sure got the impression Brady didn't. On national television.
Joe didn't really expect Arians to say Brady couldn't count. But man, it was like old times watching that unfold on a national broadcast.
#ItsABucsLife
Vea Watch
Right now Joe's attention is on Vita Vea's right ankle in what looked like an ugly injury.
Arians is expected to hold his day-after presser this morning (via Zoom) at 11 a.m. Maybe he will have an update on Vea.
The Bucs might be able to get away with missing Vea for a couple of weeks but not for the season.
If the Bucs can get Vea back in a month, that would be gold. Starting Nov. 23, the Bucs host the Rams and Chiefs, get a bye and then welcome the Vikings at home. So Vea will very much be needed for those games.
Let's put it this way: If the Bucs lose Vea for the season, the run defense everyone likes to brag about isn't so strong any longer.
Selective aggression
So the Bucs decided to go for it on 4th-and-1 from their own 19 but then drag @ss late in the first half when maybe they could have hustled for a field goal to end the first half? They had two timeouts and 36 seconds.
Boy, that really came back to bite them.
Joe thought, in a perverse way, it was cool that Arians showed a pair of brass ones going for it on fourth down from your own-19. Had the Bucs not made the first down — it was close! — Arians would be getting skinned from coast-to-coast on every two-bit Chuckle Hut sports radio show.
Joe remembers when Bill Belicheat went for it on fourth down from his own-38 (Brady at quarterback oddly enough) and the Belicheats didn't get the first down. Maybe the greatest coach in the history of the NFL, Belicheat was pounded for it.
Arians is a damn good coach but he ain't Belicheat.
Why would a team be borderline reckless on from the 19 and then with two timeouts in their back pocket not trying to score at the end of the first half?
Doesn't add up for Joe.
Shaq got hosed
Joe isn't one to holler about refs. Unless there is a zebra who pulls a Don Denkinger or a Rams-Saints pass interference. Joe isn't a guy who grouses about referees. It's part of the game.
You could drive yourself nuts whining about referees (but Joe does agree with Belicheat that every play should be reviewable) because every game has questionable calls. Besides, more often than not, teams and players have it within their own power to do something on the next play to wipe away the memory of a bad call.
Adapt, adjust and overcome. Joe's a huge believer in that. If the refs are flag-happy and calling things tight, then you as a player better watch yourself and adjust.
In some circles, this is called "discipline."
Joe must admit the timing was really odd in that people were lauding the NFL for cutting down on penalties this year, and then officials went nuts on the Bucs last night.
So all of a sudden referees decided that TV viewers tune in to watch them? Did they suddenly get a directive from league offices to warm up their right arms for Thursday Night Football?
Either you believe in conspiracy theories or the Bucs were just downright dumb and sloppy. Having typed that, NFL sack king Shaq Barrett got hosed last night. Twice.
The first one saw Shaq whistled for offsides when a Bears offensive lineman clearly jumped. Second was when Shaq hit Nick Foles and he was flagged for a late hit giving the Bears a key first down.
The first call kept the Bucs defense on the field following a third down, and the Bucs lost key field position.
The second call was just completely bogus. Shaq hit Foles a hair after Foles released the ball. If that's a late hit, you might as well put a circle around quarterbacks and disallow defenders from entering that circle.
But you know what? Losing teams sit back and cry about flags. Winners find a way to win.
Last night, the Bucs found ways to lose.
It's a tradition in these here parts.