Evaporating Excuses
October 9th, 2020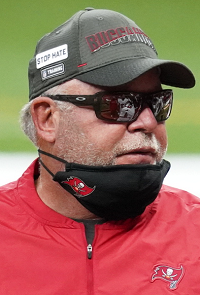 Nothing drives Joe to scream at the TV quite like when announcers in the last two Bucs games talked about how the Bucs have really just completed ___ preseason games, so they've not yet jelled because the starters haven't — or have barely — completed the equivalent of their August snaps.
Stop it!
Stop. Stop. Stop.
How many quarters of preseason football would Tom Brady have played? Maybe five at maximum, if any team had been granted a normal preseason.
Nearly every starting NFL player will tell you they are good (really good) with only having two preseason games, and some quality head coaches even keep a hearty handful of their starters out of preseason games completely. So stop insulting innocent NFL fans with the nonsense.
The Bucs returned a ton of starters on both sides of the ball and the entire coaching staff. Other teams didn't have the luxury, and experience is supposed to overcome rust, especially in Week 4 or Week 5.
Joe's glad that excuse will finally evaporate by the Bucs-Packers game in nine days. Or will it?
Perhaps the only Bucs players with legitimate adjustment excuses are the rookies and Rob Gronkowski, who retired for a year and seems to be figuring out what his body still can accomplish on a football field in 2020.
For everyone else on the Bucs, Joe doesn't want to hear it. Brett Favre marched into a very ho-hum Jets team back in 2008 and got them out to an 8-3 start. The playing field is level across the league.
Nick Foles is on a new team and didn't take a lot of first-team reps in an abbreviated training camp. Lots of teams have injuries. It's the same thing every year.
Joe desperately hopes the Bucs can bounce back not just from a loss, but from terribly sloppy and messy play in consecutive weeks. They haven't played a complete game, 60 minutes of consistency, yet this season.