COVID-19 Case At One Buc Palace
October 29th, 2020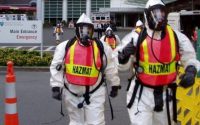 No, a player is not infected.
But there was a new case of COVID-19 identified at One Buc Palace and it's got two people sent home to isolate.
Here's part of the statement from the Buccaneers:
"We were notified that a member of our football operations support staff tested positive for COVID-19 yesterday evening. The individual, and one additional football operations staffer who had been in close contact but has subsequently tested negative, were told to stay at home and are self-isolating. No other members of the organization were identified as high risk for exposure …"
Joe's not concerned about Monday's game against the Giants being in jeopardy because of this. But because of the Giants now having players affected by The Sickness, well, that's a different story.