Bruce Arians: "This Was One Of Those Double-Mike Games Again"
October 20th, 2020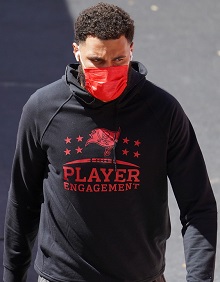 The Buccaneers threw the ball in Mike Evans' direction twice Sunday, and he caught one for a 10-yard gain.
This isn't 2016, 2017 or 2018. No longer is the ball forced to Evans.
It's a new era of Bucs football, one with a treasure of weapons, including a running game, and a legendary quarterback who abhors risk.
The results have been fewer yards, fewer points and more wins and balance.
Evans has two games this season with over 100 yards receiving, and in the other four he's combined for 55 yards on nine catches. (That's not a typo.)
This evening, Bucco Bruce Arians sounded like he shook his head a bit while talking about Evans' day against the Packers.
"This was one of those double-Mike games again," Arians said on a Buccaneers.com live stream.
Combine that with Evans not playing at 100 percent because of his ankle, and it's a recipe for Tom Brady to take what the double-team affords him.
"Defensively, if you're going to rotate to Mike, you're usually leaving the middle of the field open," said Arians, before praising Brady for working the crossing routes and the middle of the field.
So it goes for Evans. He's the top dog receiver and Joe completely understands why defenses key on him. Some won't, though, and Evans knows that. Those are the games in which he'll shine most. And Joe has no doubt Evans will be ready.
The best part about Evans is that he's a true team guy. He's not going to sulk.
Joe also suspects that when Evans is completely healthy, the Bucs will do a little more to ensure he hits that 1,000-yard mark for the seventh consecutive season, which would set an NFL record. Evans is currently on pace for 749 yards.