Another Victim Of The Run Defense
October 25th, 2020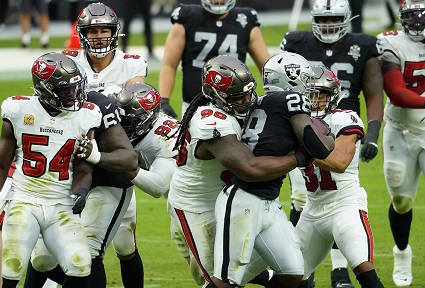 Pro Bowl Raiders running back Josh Jacobs just came off a bye week and cranked out the worst rushing game of his career — and not a soul paying attention to the NFL was a tiny bit surprised.
The Bucs run defense is simply one of the best the NFL has seen in quite a while.
No Vita Vea. No problem.
Rakeem Nuñez-Roches and newcomer Steve McLendon locked it down today at nose tackle. And every Bucs fan knows the rest of the characters that have locked down running backs since the start of the 2019 season.
Jacobs had 10 carries for 17 yards. As Joe noted, that's by far the worst day of Jacobs' career.
Warren Sapp may have snickered at the Bucs run defense recently, but Joe will dare say Sapp might not realize just how dominant it is and how that affects opponents' offenses.
The Bucs are now at 15 consecutive games without allowing a 100-yard rusher. Next week at the Giants should make it 16, the equivalent of a full season.