Warren Sapp Questions Value Of Run Defense
October 15th, 2020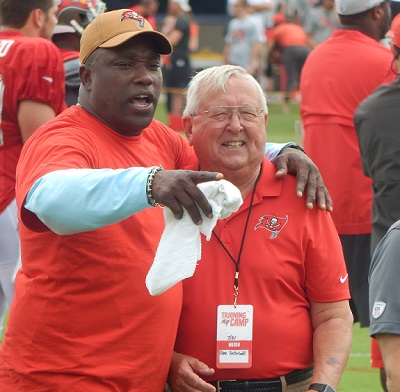 Our beloved Tampa Bay Buccaneers own the NFL's No. 2-ranked defense.
Does it feel like they do?
Only seven teams have allowed less points than the Bucs, so that's impressive alongside the yardage ranking that reflects the No. 2 overall ranking.
But again, Joe will ask, does the defense feel like a dominant unit?
Joe would reply, "No" not after blowing three leads to the Bears and Nick Foles. But defense certainly hasn't been the Bucs issue this season.
Buccaneers legend Warren Sapp, never one to shy away from an opinion, was on SiriusXM NFL Radio yesterday and he scoffed at the Bucs' elite run defense. It's nice, Sapp said, but he questioned what's the real value there.
"I keep hearing about Tampa and their [top] run defense. Damn, too bad it's a quarterback-driven league and they throw it 50 times," Sapp said. "Second rated in the run defense don't do too much … when you get into shootouts every week."
Scoring is up in the NFL and even Tom Brady is averaging 39 passes a game. Believe it or not, Teddy Bridgewater is slinging it 35 times per game.
Joe is not knocking run defense. Hell, if they run it, then it's your job to stop it. But the discussion on the value of run defense is an interesting one, as the Bucs secondary is inexperienced and offense is a bit easier this season without teams having a true home field edge because of crowd noise.
Sapp noted how Aaron Rodgers was in New Orleans and was hard-counting the Saints, which would have been impossible if not for The Sickness.
On Sunday, the Bucs will face a Packers team that has run and passed well through four games. It'll be the best test yet for the Bucs' all-around defense. If the Bucs can look like the No. 2-ranked defense they are, then Joe suspects a Tampa Bay victory will be delivered with ease.
---
Buccaneers legend Derrick Brooks and Sage JoeBucsFan.com columnist Ira Kaufman talk about getting humbled in Chicago and what the Bucs must do to improve. It's a new TAMPA TWO, from The Identity Tampa Bay and JoeBucsFan.com.