Achilles Injury For O.J. Howard (Update)
October 4th, 2020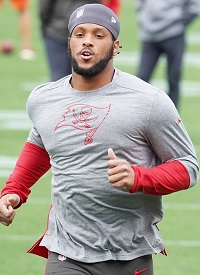 [UPDATE: 5:08 p.m.] The terrible news came over the Buccaneers Radio Network.
It confirmed what fans saw in the fourth-quarter, O.J. Howard getting a cart ride back to the locker room.
Damn! It's so rare to have any kind of Achilles issue that isn't a season-ender. And Bucco Bruce Arians said after the game that he fears Howard's Achilles will end his season.
Howard had a big 28-yard catch today and finished with three for 50 yards.
For now, it wouldn't be a crushing loss to be without Howard. But with so many injuries and no guarantee that Rob Gronkowski can make it through a full season, Joe won't sleep much tonight while awaiting an official word on Howard later this week.
[UPDATE: 5:08 p.m.] The Buccaneers Radio Network is reporting that tight end O.J. Howard ruptured his Achilles tendon which likely will end his 2020 season.]