A Test For The "Selfless"
October 23rd, 2020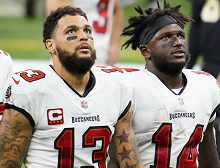 What a coincidence, Bucco Bruce Arians was talking diva wide receivers on national radio this week.
Of course Joe was listening.
Arians found his way to The Dan Patrick Show, where the host asked him about dealing with egos and specifically the big ones that come with receivers.
Arians said he's worked with multiple divas in his past but noted he can't smell that stench in Tampa.
"This group is as selfless as I've ever been around," Arians said. "You know, Mike Evans, we win, lose, draw, he catches one or he catches 10, he's the same guy. Chris Godwin is the same way. We're very, very fortunate in that regard."
And now the Bucs have added renowned and successful diva Antonio Brown, who may be the Bucs' third-best wide receiver while he's used to being the top dog.
Intriguing times ahead, especially the high-pressure games of the season near.
As for the selflessness Arians mentioned in Evans, Godwin and the pre-Brown receiving corps, Joe wonders if there's a limit to their selflessness. Godwin is angling for a new contract, and Evans is playing through injuries and will own a very special NFL record if he can get to 1,000 yards receiving this season.
Man, Joe sure hopes Brown can behave, or that Godwin and Evans can deal with it if he doesn't.