A Lot On The Line For Shaq
October 25th, 2020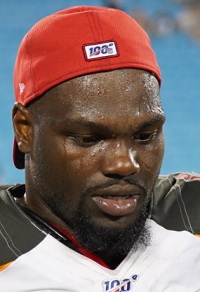 A 5-2 record is on the line for the Bucs today, and there's plenty on the individual docket for Shaq Barrett, as well.
The 27-year-old is playing on the franchise tag and he's gunning for a $20 million-a-year contract, the kind that goes to young, elite pass rushers. Through six games this season, Shaq is producing like a guy who would only score half that much in 2021 free agency.
Shaq hasn't come close to his 2019 production, that type that reels in the cash. Shaq's currently on pace for 8 sacks, 0 forced fumbles and 11 quarterback hits. Last year he had 19.5 sacks, 6 forced fumbles and 37 QB hits.
Big difference.
Shaq is playing good football, and Bucco Bruce Arians noted this week that Shaq has "been close" to more sacks and is drawing a steady diet of double teams.
That all sounds nice, but to get paid again, Shaq has to produce, especially when the guy on the opposite edge is having a strong year.
Joe is rooting for Shaq to dominate. First, it would help the Bucs win, but second is because Joe wants to be sure Shaq returns next year. Joe figures if Shaq balls out, there's no way the Bucs could let him go. But if he checks in with 10 sacks, then Shaq and the Bucs might have very different views of his value.
Today, the Raiders will roll out an offensive line of guys who didn't practice all week and/or backups. This is all set up for Shaq to have a breakout day.
---
GREAT draft background here and more from Devin White, and a great Raiders preview, as he joins Buccaneers legend Derrick Brooks and The Sage of Tampa Bay Sports, Ira Kaufman. Great stuff from The Identity Tampa Bay and Joe.