"When We Tackled, He Tackled Well"
September 9th, 2020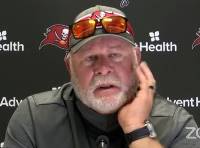 We all know that in many ways, Bucs coach Bucco Bruce Arians is old school.
So it warmed Joe's heart to know tackling was a difference in Mike Edwards losing a potential starting gig to rookie Antoine Winfield.
Joe was mildly surprised by Winfield being listed atop the Bucs' opening day depth chart. Not because Joe doesn't think he shouldbe . Joe's been clear from the day the Bucs drafted Winfield that he was and is a baller. But while watching practices in training camp, Joe saw Edwards (and D'Cota Dixon) play at safety as much if not more than Winfield with the first-team defense.
To hear Arians speak about Winfield and Edwards yesterday, it came down to tackling, and it seemed like one tackle made the difference.
"He was around the ball every day," Arians said of Winfield. "He was creating fumbles. he was getting interceptions. When we tackled, he tackled well. He showed his multiple position flexibility.

"Mike did a heck of a job too. Mike just missed a tackle. But that's what happens right now."
Joe is has never heard of a guy losing a starting job because of one missed tackle in practice. That's razor-thin competition.
It also tells Joe that second-year Edwards should be good depth, if he lost the battle of starting safety over one missed tackle.
And thankfully, Arians and the Bucs are emphasizing a fundamental that has all but wilted away in the 21st century: tackling.