Unsteady
September 13th, 2020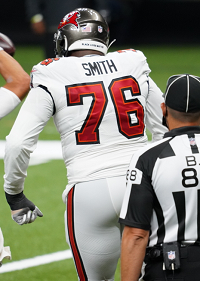 It appears the Bucs had 65 plays of offense today and Donovan Smith played well for 60 and the others led fans to scream at their TVs.
(Damn, today felt so much like a 2019 reunion.)
This is the player Smith was for the past few years (better last year), but that was supposed to change.
Joe has to go back and watch the film, but Smith was beaten badly a few times today, and it appeared he was beaten another time while Scotty Miller ran into his back (though Miller isn't exactly a burly tight end). Overall, it appeared that Smith didn't fare as well as rookie right tackle Tristan Wirfs.
Was it effort, was it the Saints' talent?
Again, Joe must take a closer look. But regardless, Smith had a day he'd like to have back. And it's not like the Bucs were running left with a punishing ground game to make up for it.