Ira Kaufman's 10 Takeaways From Bucs-Saints
September 13th, 2020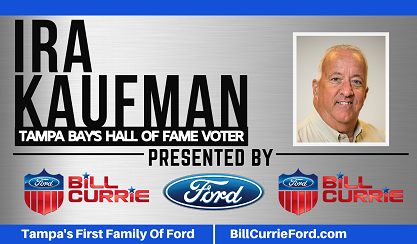 BY IRA KAUFMAN
In a drab debut, the new-look Bucs looked too much like the old Bucs.
Turnovers and penalties. Penalties and turnovers. Despite substituting Tom Brady for Jameis Winston under center, Tampa Bay maintained its ghastly knack for beating itself.
Brady was part of the problem as the Saints won the turnover battle 3-0. This is a trend that must be reversed if the Bucs plan to knock off New Orleans in the rematch in Tampa.
In the past three matchups, the Bucs have seven giveaways. The Saints have one. Bruce Arians couldn't believe his weary eyes as the visitors self-destructed.
Again.
Here's how the Bucs made it all too easy in The Big Easy:
* First things first, Brady needs to be better. His resume suggests he'll bounce back strong in the home opener. But for most of this matchup, he looked too much like Winston. The pick-6 was a killer and the five possessions after an impressive opening drive ended with two interceptions, two punts and a blocked FG attempt. Any long pass toward a sideline has to be thrown on a string. Brady's ball floated
on a cloud.
* For two weeks, I hammered Arians about the danger of facing the NFL's premier special teams units without much time to prepare. The disparity was evident throughout the game as Deonte Harris averaged 15 yards per punt return and the Bucs muffed a kickoff. Add in a blocked FG try and it's safe to say special teams will receive special emphasis this week.
* Mike Edwards couldn't beat out rookie Antoine Winfield for a starting safety spot and he didn't help his status on the depth chart with an inexplicable backwards drift toward the ball on Thomas Morstead's kickoff. Let's remember it was a careless facemask penalty against Carlton Davis on the Emmanuel Sanders TD catch that gave Morstead an opportunity to kick off from midfield. His towering kick confused the Bucs and enforced Morstead's reputation as a formidable weapon for Sean Payton.
* Memo to Donovan Smith: watch the tape, learn from it, then burn it. Buc fans were concerned about Tristan Wirfs making his NFL debut at right tackle against Cameron Jordan. Instead, it was Tampa Bay's left tackle who looked like an overmatched rookie.
* Wirfs looked like he belonged, but the offensive line as a group lost too many trench skirmishes. And while Brady faced constant pressure, the pass rush against Brees was erratic. Credit the Saints for making Shaq Barrett disappear.
* There were some standouts for the visitors. Scotty Miller showed up ready to play, along with Devin White and Lavonte David. Winfield is a keeper while Davis had his share of good moments covering Michael Thomas, who managed just three catches for 17 yards.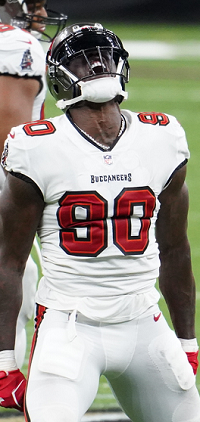 * Tampa Bay's ground game remains erratic. There were some nice holes for Ronald Jones, but the Bucs averaged only 3.3 yards per carry. On a day Brady wasn't particularly sharp, that's not good enough.
* After seeing the Bucs lead the league with 133 penalties, Arians has been preaching discipline for the past six weeks. He needs a new sermon because 9 flags for 103 yards isn't acceptable. Vita Vea will be reminded by Todd Bowles, perhaps rather forcefully, that you can't hand New Orleans a fourth-down gift by misreading the snap count when you're lined up over the center.
* For the most part, the defense played well. New Orleans was limited to four total yards during three third-quarter possessions and only two Saint snaps went for more than 20 yards — a 46-yard pass to
Jared Cook when Jamel Dean was caught snoozing and Taysom Hill's 38-yard completion to Alvin Kamara off a lateral. Bowles' unit is going to be just fine.
* One game does not a season make, even if it's against your key division rival. The 2002 champion Bucs lost Week 1 at home to the Saints. The 2018 Bucs won their season opener in the Superdome and finished 5-11. Remember what Arians said after last season ended: "When we stop beating ourselves, we'll be tough to beat."
New year, same mantra.