"That's Unexplainable To Me"
September 13th, 2020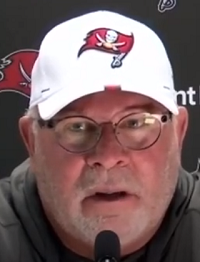 Bucco Bruce Arians was not a happy man moments ago on a Zoom call with Joe and reporters after a sloppy Bucs loss.
Pre-snap penalties will drive any coach nuts, but they certainly shouldn't come from the defense, especially not a nose tackle over the football on 4th down. But that happened to Vita Vea in the first half, and then Ndamukong Suh followed with more happy feet on the next play.
"We practiced 4th and short and never jump offsides a hundred times," exasperated Arians said after the game. "That's unexplainable to me."
Arians acknowledged that the Bucs' overall sloppiness is on him.
"There's no doubt. It's my job to make that stop," the head coach said.
The Bucs finished with 9 penalties for 103 yards. They led the NFL last season in penalties with just under 9 per game.