Maul Prep, All According To Plan
September 30th, 2020
BY IRA KAUFMAN
Who knew?
The addition of Tom Brady dominated the offseason headlines for the Tampa Bay Buccaneers, and rightly so. When you bring in a first-ballot Hall of Famer under center, a man with six Super Bowl rings in his collection, people around the league are going to take notice.
But all the while, sneaky Bruce Arians had another vision in mind.
He craved Brady because he wanted leadership at the game's most important position, but he also wanted a guy who wouldn't undermine his defense with another 41 giveaways.
Six months later, all is going according to plan. Tampa Bay's defense is now thriving in a featured role while Brady provides solid support.
And while Brady is far from an afterthought, he is no longer the primary storyline on a first-place club.
"We built this team on defense," Arians says. "Tom Brady was just the icing on the cake."
It's time to cut into this multi-layered cake and salute the delicacies Todd Bowles is serving up each week.
There's a powerful argument to be made that the Bucs suddenly boast the NFC's best defense. This is not the marauding Buc defense of 2002 or 1999, but it's a unit to be feared.
Inside The Numbers
Those clubs were led by Derrick Brooks, Warren Sapp, John Lynch and Rondé Barber — worthy Hall of Famers at every level. Still, as Drew Brees, Teddy Bridgewater and Jeff Driskel can attest, the 2020 Bucs keep offensive coordinators up into the wee hours.
Let us count the ways.
Opponents are averaging a mere 4.7 yards per offensive snap, lowest in the NFC. The Bucs have allowed the fewest first downs in the conference and an NFC-low 2.9 yards per rushing attempt.
Tampa Bay blitzes more than any team in the NFC and Bowles is very crafty in the way he releases the hounds. Here comes Devin White up the middle. Here comes Jordan Whitehead off the edge. Here comes Antoine Winfield Jr. … from everywhere.
The Bucs are one of only three teams that have more interceptions than TD passes allowed. Only 28 percent of opponents' drives end up with a score of any kind, the lowest rate in the conference.
You get the picture.
Changed Bar
Through 10 games last season, Bowles failed to live up to his reputation as a defensive guru. His young secondary lacked confidence and all those giveaways put too much of a strain on a unit struggling to implement a new system.
Perhaps most importantly, Bowles was still trying to determine the strengths and weaknesses of his players.
All of that uncertainty changed in November and the Bucs closed with a string of impressive defensive efforts. Arians became a believer at that point, imploring Jason Licht to retain Jason Pierre-Paul and Ndamukong Suh in the offseason.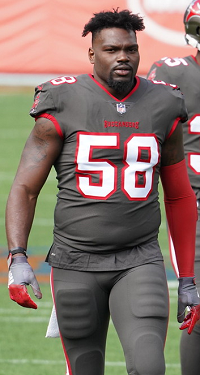 Shaq Barrett wasn't going anywhere. That was a given.
While the versatile Winfield shocks teammates and coaches with his football intelligence, this defense has now reeled off nine consecutive solid efforts.
How solid? Opponents have averaged 22 points during that stretch, compared to 31 points in the first 10 games of the 2019 season. That's a heck of a remodeling job for Bowles.
"Our defense is built on multiple pieces being able to do a lot of different things," says Arians.
In the offseason, it was fashionable to think how far the Bucs could go if their defense could somehow reach the middle of the pack. We didn't realize this group would transform into a pack of hungry jackals.
At this point, middle of the pack seems like an awfully low bar.
Tom Brady was a nice story — for a while. But even No. 12 would acknowledge this defense is now driving the train.
Next stop? A rookie quarterback, about to be run over.