Bryon Leftwich Talks Brady Bonding
October 1st, 2020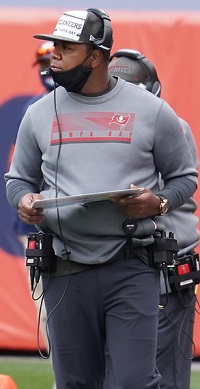 There's a very happy marriage in its honeymoon phase at One Buc Palace.
That's the love connection between Bucs offensive coordinator Byron Leftwich and the most successful quarterback in NFL history, Tom Brady.
Bucs fans have heard about it previously, how 43-year-old Brady very much connects with 40-year-old Leftwich. They grew up in the NFL during the same era, played the same position, and both have a very old-school mentality when it comes to the game. They even like pencil and paper.
This week Leftwich jumped on Total Access, a Buccaneers production, and had a smile in his voice talking about sharing time with Brady and communicating as peers with a common love of the game.
"You know, we talk about a lot of old stuff because football never changes," Leftwich said. "Football is football. He's seen it all. Like we talked about, he's done it all. We played against each other. We played during the same time. We've always been good,

"Now we have an opportunity to work with each other. Now it's just amazingly fun. We have a lot of fun. You know, we get a lot of work in but it's good to coach The Goat. You know, it's good to coach the guy that everybody will consider the best ever. It's just fun, man. It's just fun when you have a guy like this who's seen it all, done it all. You just got to put him in position and watch him execute. It's a special thing.

"I still think we got some work to do. Everybody's probably saying that. We got opportunities to make more plays out there on the grass. I think as we get more time together we will. I don't like where we at; I like the direction we're going. I like the plays that we've improved from Week 1 to Week 3."
Brady joined the same show and was adamant that the Bucs will get better when the offense plays more confidently, which will come from more time together. Brady doesn't hesitate to express that losing offseason time thanks to The Sickness was a major impediment to consistent football.
That will all play out on the field. But off the field, Leftwich and Brady have found each other and seem to be loving their time together. Joe's very pleased because that marriage could have played out very differently.