"Just Be Organic"
September 24th, 2020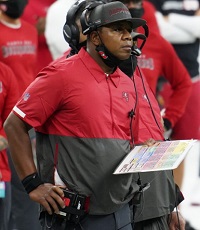 Offensive coordinator Bryon Leftwich has orders for himself and for Tom Brady, and they have nothing to do with Brady's desires for vegan ice cream and pea protein.
Yes, Leftwich wants the Bucs offense to not force any thing.
"Just be organic," Leftwich said multiple times to Joe and virtually assembled media today. Leftwich was not entertaining any notions that he needs to get more players involved in the offense (#TightEnds).
The Bucs' OC says he spends of ton of energy daily planning and plotting to get every player involved and in the best position to succeed. But ultimately, Leftwich said, the offense can't worry a bit about spreading the ball around. It's got to be about matchups and organic play.
To keep it simple, Leftwich can't give a hoot about stats, just moving the chains and hitting who's open, and playing the hot hands at running back.
And that's the way it should be.