Marshon Lattimore In Mike Evans' Head
September 14th, 2020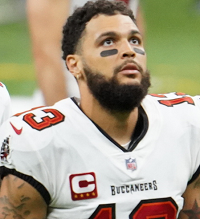 When Mike Evans was a young player with the Bucs, then-Stinking Panthers cornerback Josh Norman was absolutely in his head and it showed in Evans' play.
Evans was so frustrated Norman totally baited Evans into penalties and once got Evans tossed from a game.
Saints defensive back Marshon Lattimore is just about the same way. Though Lattimore wasn't trying to bait Evans three years ago when Lattimore got into a sideline hassle with Mr. Entertainment, America's Quarterback, Pro Bowler Jameis Winston, it was Evans, flying in to defend Jameis, who leveled Lattimore and got run from the game as a result.
Lattimore hasn't gotten Evans launched from a game (yet), but damn if he isn't in Evans' head.
Evans had a brutal day yesterday in New Orleans and much if not all of that was due to Lattimore, as documented by Jenna Laine of ESPN.
Mike Evans had one reception Sunday and it came on a play starting at 2:46 of the fourth quarter. According to @NextGenStats, Marshon Lattimore lined up against Evans a team-high 29 times, and limited him to 0 receptions on two targets as the nearest defender.

— JennaLaineESPN (@JennaLaineESPN) September 14, 2020
When former Bucs offensive coordinator and wide receivers coach Todd Monken came to town, then-coach Dirk Koetter gave Monken one directive: fix Mike Evans.
And Evans became an NFL star.
Could it be in the past year, with Monken gone, that Evans is doing something where he's allowing Lattimore to screw with his head, resulting in poor games against the Saints? In 2019, Evans had a total of four catches for 69 yards against the Saints in two games.
Look, Joe is a huge fan of Evans. But let's be honest here, Lattimore is not Deion Sanders. Is Lattimore using some sort of mind game to throw off Evans and turn him into a scatterbrain?