Bucs Coach Talks About "Undercover" Bucs Coach
September 17th, 2020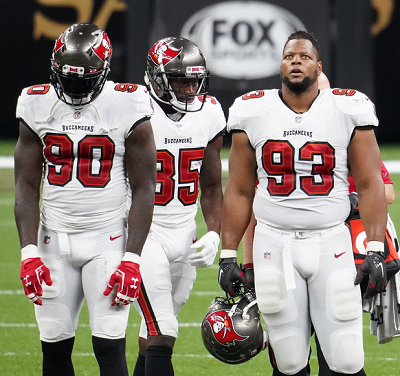 This post reminds Joe of former Bucs defensive tackle Gerald McCoy talking about how he didn't have any mentors during his rookie season.
One might have thought Pro Bowl guard and fellow Oklahoma Sooner Davin Joseph would have helped guide McCoy in 2010, but apparently it wasn't significant assistance.
New Bucs rookie right tackle Tristan Wirfs, however, has plenty of peer guidance. Harold Goodwin, Bucs assistant head coach and run game coordinator (the latter title Goodwin might want to wipe off his resume), explained on Bucs Total Access this week.
While Wirfs says Donovan Smith is his go-to guy, Goodwin said Wirfs has a secret mentor — who no longer is a secret.
"Undercover-wise, you know who is the O-line coach on the defensive line? It's Suh," Goodwin said. "Suh does a great job of talking to those guys and giving them pointers of what he sees."
Goodwin went on to praise Suh's ability to teach what he's seen from offensive linemen that works and doesn't work.
Of course, Goodwin confirmed what Bucs fans saw with their own eyes, that Wirfs had a strong rookie debut in New Orleans against a Pro Bowl edge defender. Nothing terribly for Wirfs there, Goodwin explained, noting Jason Pierre-Paul and Shaq Barrett almost fight for chances to face Wirfs in practice.
"It's funny because they rotate to try to get him in 1-on-1 pass rush in practice. They want to test him," Goodwin said.
Indeed the Bucs have quite an incubator for Wirfs. Joe hopes he hatches quickly into an elite right tackle. The Bucs could use a stud tackle.