Top Mentor "Donny"
September 11th, 2020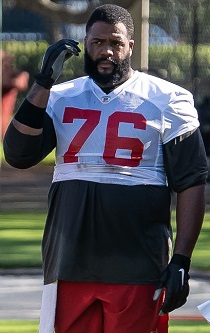 Some Bucs fans think rookie first-round pick Tristan Wirfs will take Donovan Smith's job next season, in a tackle swap that would soothe the Smith bashers like a cold Big Storm Beer on a Sunday afternoon.
Joe's not in that loud crowd, so Joe is most interested in how Wirfs is fitting in with teammates and his readiness to play right tackle on Sunday's opening day.
Joe asked Wirfs today what teammate is helping him most, and the answer might surprise some fans.
JoeBucsFan.com: Tristan, if you had to name one guy on the Bucs roster who sort of has been mentoring you more than anybody else, even though a lot of guys have chipped in, who would that be?
Tristan Wirfs: Probably Donny. Donovan Smith. It feels like he's kind of been like a big brother to me, you know, playing the tackle position just giving me tips here and there. Stuff that he's done that works for him.  He's like, 'Hey, give this a try.' Or stuff like that. We'll text and Facetime sometimes. But, you know, it's been really awesome having him to talk to.
Very cool. A pure class effort by Smith.
Now go beat New Orleans!!