Buccaneers 28, Broncos 10
September 27th, 2020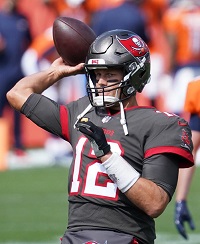 Congratulations, Bucs!
You just led wire-to-wire against a bad football team — without the major hiccup experienced last Sunday against Carolina.
It's progress and Joe is loving it!
Lots of hats to tip today.
First, great job for the Bucs coming out ready and pouncing. What a huge effort from Chris Godwin to YAC (yards after catch) his way into the end zone on the opening drive after a blocked pount. That set the tone in a big way. The Bucs scored on four of their first five possessions.
Antoine Winfield, Jr. continues to be a playmaker just three games into his career. Nicely done, rookie. Another sack and a bat down.
Ronald Jones with the Mike Alstott flashback play and the tough running to close out the game. Nice!
Joe didn't like Todd Bowles going to the prevent defense late in the second half. Hopefully, Bowles has learned his lesson, and it seems he did. This secondary isn't good enough — or built — for soft coverage. Keep bringin' it! The Bucs finished with six sacks.
Shaq Barrett is back! Man, it must have felt great for him, two sacks and a safety.
Scotty Miller with a huge catch on a contested deep shot. Apparently, his hip and groin issues aren't serious.
And take a bow Ryan Succop for belting a 43-yard field goal. Joe never takes kicks for granted.
Lastly, and Joe has plenty to write about all night, Tom Brady was a steadying force. The accuracy wasn't perfect but he was steady, smart and effective with impressive moments. Joe never once feared Brady would throw the game with a bunch of picks, which is a beautiful thing.