Bruce Arians Reveals Ryan Succop's Range
September 9th, 2020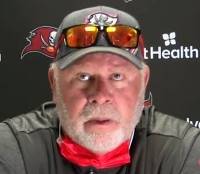 The Bucs have a new kicker (which is nothing new).
So how far can he kick?
If you're just re-joining the Buccaneers' kicking circus, veteran Ryan Succop booted Matt Gay from the roster. Last year's fifth-round pick remains unemployed. And Succop has a range of 52 yards now on his outdoor field goals, per Arians' news conference today.
Gay had a greater range but struggled on short kicks, which drove Arians a little crazy.
Of course, a kicker's range is always about how he's kicking roughly 30 to 60 minutes before kickoff.
Hopefully, the air conditioning won't be swirling at the Superdome on Sunday.