Arians "Disappointed" In Noise
September 13th, 2020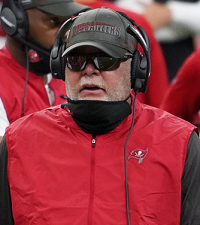 If someone was trying to reach for an excuse that the fake crowd noise piped into the Superdome may have been too loud and it echoed in an empty stadium, Bucs coach Bruce Arians doesn't want to hear about it.
In fact, Arians thought the fake noise was so muted, that whoever was in charge of the fake noise was screwing over the hometown Saints.
"Noise?" Arians scoffed when asked if communication issues may have been the result. "There was no noise. We've practiced with a heckuva lot more noise than that.

"I was disappointed. I don't think it was fair to the Saints to have it that low. You could have an easy conversation with someone across the field it was that low."
Joe certainly remembers the fake crowd noised piped into the Den of Depression during a Bucs scrimmage last month. It was about as loud as a jet airliner ,as Joe could barely hear the planes that flew low over the stadium arriving/departing from Tampa International Airport.
So if folks think fake crowd noise resulted in sloppy play and turnovers and miscommunication by the Bucs, in a long about way Arians said that is baloney.