"We Needed The Air Conditioning Today"
August 19th, 2020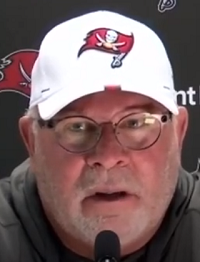 The Bucs marched inside the Glazer Shed early this morning, losing the opportunity to practice on multiple fields with their big training camp roster.
The rain was coming down and Bucco Bruce Arians said after the session that despite the sloppy weather, the team was ready for a cool and more calm practice.
"We could have went outside. We needed the air conditioning today," Arians said. "We've had some pretty hot days in a row. Just the rehydration, staying in the air conditioning, it was a red-zone day anyway and we didn't need anybody slipping out there and pulling a muscle."
Joe had asked Arians whether the indoor day was setback as he tries to evaluate a load of roster hopefuls who won't get preseason games and if it was planned. He didn't really answer, but it was at least clear that indoors was a good thing for the top-tier players.
Jason Pierre-Paul and Ndamukong Suh were among veterans sitting out practice, planned rest time according to Arians.