Targeting Shady
August 4th, 2020
Joe was absolutely stoked last week upon learning the Bucs broke down after having an epiphany that they needed a running back and landed future Hall of Fame running back Shady McCoy.
Now Joe doesn't care what you believe, whether Bucs AC/DC-loving general manager Jason Licht pulled a fast one on the league or if Bucco Bruce Arians was hollering at Licht to find a running back, or Licht got tired of park-violating, home-invading, NFLPA-ignoring Bucs quarterback Tom Brady spamming him with texts in the wee hours of the night for a running back. The key here is that Licht got him!
Like just about everyone else who pays attention, the co-hosts of "Movin' the Chains," former Bucs quarterback Jim Miller and former Bucs scout and Jets player personnel man Pat Kirwan, said over and over again that the only week spot on the Bucs was running back (though they argued the secondary could use a veteran backup).
After news broke about Shady in the middle of their show last week, Kirwan and Miller reacted, heard exclusively on SiriusXM NFL Radio.
Jim Miller: Your thoughts on the Bucs signing Shady McCoy?

Pat Kirwan: Good move for them. Between him and Jones they will be fine at running back. I asked you off the air how many balls you think LeSean McCoy will catch from Tom Brady? All you have to do is look at James White [with New England] and see how Tom uses that running back and always likes to have one. Would you be surprised if McCoy caught 60 balls?

Miller: Ah, no.

Kirwan: Me either.
Could Ronald Jones have boosted his cause by physically remaking himself this offseason? Jenna Laine of ESPN claims RoJo looks like a different man but noted football analyst Warren Sharp believes that a new RoJo image won't mean much on the field.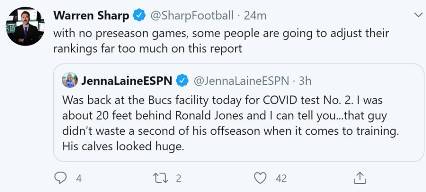 Here is what Joe knows: RoJo has been working with Brady quite a bit. And Brady loves to throw to running backs.
While Arians has scoffed that RoJo is not a third-down weapon, the guy has really good YAC, just under 10 yards a catch. If he can just be more effective catching the damn ball …
Rest assured, RoJo or no RoJo, Joe cannot believe the Bucs' good fortune landing Shady.
That birthday connection 🏈🎂

HBD, @TomBrady & @rojo! pic.twitter.com/HN9lhFB9pg

— Tampa Bay Buccaneers (@Buccaneers) August 3, 2020