Shaq Laments Loss Of Preseason Games
August 3rd, 2020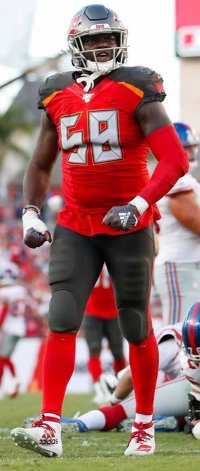 Today, Shaq Barrett acknowledged that he's "sad."
No, it has nothing to do with the Tampa Bay Rays' weekend meltdown or the Bucs' questionable depth at edge rusher.
Shaq is "sad" because preseason games were wiped out by The Sickness.
Joe asked Shaq for his feelings on the matter during a virtual news conference. The Bucs' pass rushing great had a rocky start to training camp last season and actually was trotted onto the field for Tampa Bay's final — and meaningless — preseason game. So Joe suspected Shaq to be a pro-preseason kind of guy.
And he is.
"[Preseason] is a tough loss, especially if I had been coming out this year because I was an undrafted guy," Shaq said. "So them guys might have to figure out a way to make an impact on practice on the field. It [felt] like something had to be sacrificed. I mean, I'm sad that it had to be [preseason games] because I do enjoy at least playing in one preseason game to get like my bearings, get the rhythm going. Having that time out there just to fix the mistakes that we will make early in the preseason, so we don't have to worry about making the same mistakes in the game."
For Shaq, the remedy is more focus and tougher practices.
"It's going to be just hitting the film room and treating practice like it's a game and just going from there and just being very coachable," he added, "because we are going to make the mistakes and we ain't going to be able fix them from preseason games."
Mike Evans also is a preseason games kind of guy.
Joe believes this is where coaching steps to center stage. Some teams will find ways to get their teams ballin' from Day 1. Others will struggle out of the gate.