Brady: April Conversations Happening Now
August 6th, 2020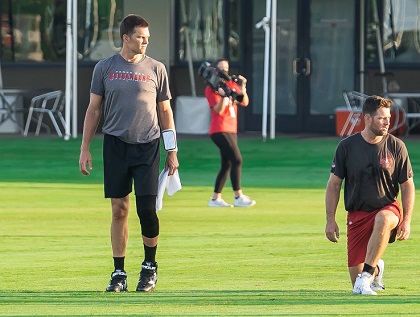 Byron Leftwich and Bucco Bruce Arians say they prefer pencils and paper to computers, and Tom Brady is known as old school, too.
But this wacky offseason was not about traditional team bonding, learning and meeting, it was very much about winning online.
Did the Bucs do that?
Brady talked to media for 11 minutes and 25 seconds today, and he referenced challenges that he and the team have faced thanks to The Sickness.
Studying a new playbook has stressed and pushed Brady mentally, he said, (more on that later), but then he seemed to say The Sickness kept him from talking to coaches and players about certain things relating to the offense.
"You couple that with the Coronavirus situation and it became even more difficult," Brady said. "So I think conversations we probably would have had, you know, in April. we're having now. And I think that part of it is a bit challenging, too."
Joe's nitpicking, but Joe sure would have felt better if Brady was raving about all the technology he was using with coaches to study film and flush out every last question he could muster. It's not like Arians is a first-year head coach; there's a season worth of film on what was the NFL's No. 3-ranked offense. And Arians has the biggest coaching staff known to professional football.
Brady stressed that it's critical for the team to "put as much time and energy now" into everything they can and "not waste any minutes of any day."
Joe has no doubt Brady will drive the Bucs to use every precious second going forward. But hopefully they didn't squander valuable time since the NFL Draft ended and players "reported" for duty online.