Arians On Donovan Smith: Solid Camp But Off Day
August 27th, 2020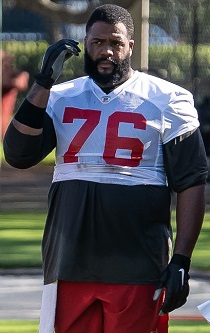 Some fans say Donovan Smith doesn't finish enough plays the way they want him to.
Offensive line coach Joe Gilbert talked about that in January.
It's a fair critique of Smith's game, but it's certainly a overblown and over-magnified, in Joe's opinion.
Smith has been having a quiet camp to date (a good thing for a left tackle), so Joe asked Bucco Bruce Arians about Smith's summer after practice today. The head coach had a strong review but he did use the "F" word (not that one).
"Yeah, he's had a real nice camp. I didn't like the way he finished this practice, but overall I'd say he's had a really solid camp," Arians said of Smith.
Again, Joe's not in the camp of Donovan Smith haters and screamers. He did improve last season and if he's always been among the least of the Bucs issues over the past five years.