"Consistency" Challenge For Donovan Smith
January 2nd, 2020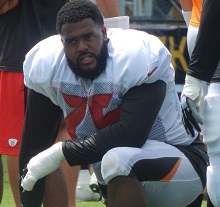 This season's knock on Bucs left tackle Donovan Smith seems to be the same as in years past, if you listen to the words of Buccaneers offensive line coach Joe Gilbert.
Some say Smith takes plays off and has since his college days. That's probably how he slipped into Round 2 of the draft and Joe has written in past years that it's obvious Smith is streaky when it comes to effort. He's simply a guy appears to be going less than 100 for a small handful of plays per game.
Joe thought Smith was significantly more consistent this season than in years past.
Asked how Smith's game can grow, Gilbert gave an example that Smith might be off his usual game for five plays every Sunday.
"I think consistency. You know, he does, at times on tape, he does some things that you sit there and say, 'Man, that's what we're looking for. That's what the left tackle should do.'"Gilbert told Buccaneers Radio. "And then there's other plays where he does it once but not the second time. And that's what you try to continue to instill in every player. But you know he can do it because he's put it on tape. Now it's just a matter of being, you know, 'Hey, if it's 65 plays, be consistent for 65, not 60.' I think that would be the No. 1 thing."
Again, nothing new here, and Joe thought Smith was better this season and under Gilbert and co-offensive line coach Harold Goodwin.
Gilbert loves Smith's raw ability on display. "His athleticism. I would say for a big man, I mean, 320-330 pounds, his athleticism, ability to move and change direction, without question that's a huge asset because you just don't see a guy with that type of athletic skills that's that big and that athletic."
Smith will return for the 2020 season on a guaranteed contract.