Will Miami Marlins Outbreak Sway Donovan Smith?
July 27th, 2020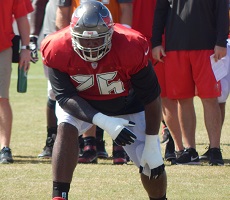 The 2020 Major League Baseball season just kicked off and 11 of 33 Miami Marlins players traveling with the team have tested positive for "The Sickness" and some games were cancelled today.
Joe cares a lot because Donovan Smith seems to care a lot.
The Bucs' left tackle was adamant via a lengthy social media post that he is "not a lab rat." That proclamation was made 17 days ago, and since then, Smith has given no indication that he has changed his mind.
Per a revised NFL labor agreement, Smith can opt out of the 2020 season on or before the afternoon of Aug. 3. If he bails, then he'll keep his job and guaranteed money and be back on the Tampa Bay roster for the 2021 campaign without any penalty.
Joe knows Smith has family-related health concerns about playing football — and the likelihood of catching The Sickness while engaged in manhandling men and huddling with others. Joe also was told Smith has the full support of his teammates and Bucs officials, whatever he may decide.
Will this fresh Marlins news sway Smith? We are one week and a few hours from the opt-out deadline.