Status Quo On Tight End Usage?
July 1st, 2020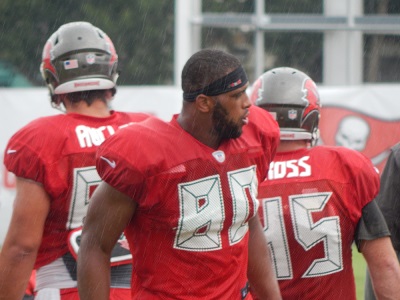 The numbers don't lie when it comes to the Buccaneers' running game.
Tampa Bay only ran well last season out of one personnel grouping.
That would be "11 personnel," also known as three receivers, a tight end and one running back to complement the O-line and quarterback.
Former Bucs scout and Jets personnel chief and linebackers coach Pat Kirwan spit out the numbers yesterday during an analysis of the Bucs running game on SiriusXM NFL Radio.
In 11 personnel, the Bucs ran 221 times, the majority of their carries, for an average of 4.4 yards per carry and six touchdowns.
That three-receiver grouping suits Tom Brady perfectly, Kirwan explained, "right up his alley." And Kirwan believes the presence of Rob Gronkowski can jack that average up to 4.6 yards per carry in 11 personnel.
In every other grouping the Bucs were meh or much worse, Kirwan shared, though they did rush for 7 TDs in two-tight-end sets (12 personnel).
Bucco Bruce Arians is allergic to fullbacks, as Bucs fans know well. Brady likes fullbacks but Kirwan isn't concerned because he's very high on third-round pick running back Ke'Shawn Vaughn, calling the Bucs "lucky" to get him at that spot in the draft.
Kirwan also commended Arians for reviving Ronald Jones last season and said he proved "fairly explosive" based on the data.
Joe can't wait to see Vaughn, and how the Bucs improve on first down after ranking 27th last season in first-down runs. \
Joe hates to type it, but while some of that first-round failure is talent, some is a product of a collective mentality.
As for using tight ends a lot more, Kirwan wasn't feeling a lot of that. Of course, that could depend a lot on how the Bucs feel about whoever becomes their No. 3 receiver. Since Chris Godwin is a ferocious blocker, often at the line of scrimmage in Arians' system, Joe highly doubts the Bucs want to change his role significantly.