NFL To Erase Half Of 2020 Preseason; Report Claims Bucs Will Lose One Home Game
July 1st, 2020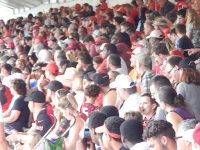 Weeks ago the NFL prohibited its teams from practicing against each other during training camp, and today changes caused by "The Sickness" reached a new level.
Weeks 1 and Weeks 4 of the preseason have been eliminated, per various reports, but NFL.com is reporting that the NFL players union has to agree to that — or to having any preseason games at all.
The politics and the business side of things will work themselves out. Tonight, Joe is more interested in celebrating with Bucs fans who will get a refund on at least one preseason game.
The Bucs were scheduled to be at home for Weeks 2 and 3 of the preseason but the Miami Herald is reporting that every NFL team will only host just one home game in preseason. So schedules will be reworked and released soon.
Of course, it's unclear whether there will be any fans at any games.
Regardless, if you've got an inevitable refund coming for a meaningless game, Joe is sending you a virtual high-five.