Legacy At Stake
July 29th, 2020
BY IRA KAUFMAN
Bruce Arians is looking for a comfortable face shield. He's also in the market for a career turnaround.
A two-time Coach of the Year, Arians appears to have the pieces in place for a successful playoff run this fall. That would be a nice rebound for a coach seeking to re-establish himself near the top of his profession.
According to voting by NFL players, the Bucs boast five of the Top 100 players in the league, including four of the best 38. Tom Brady tops the list at No. 14, followed by Mike Evans (30), Shaq Barrett (32), Chris Godwin (38) and Lavonte David at No. 100.
Factor in solid veterans like Jason Pierre-Paul and Rob Gronkowski and Arians has a lot of talent to work with, When Brady walked through Door No. 2 and entered One Buc Place, expectations for this team soared, even as the coronavirus was spreading.
Now that training camp is upon us, Arians is busy creating a winning atmosphere that will give his career a needed reset.
Not long ago, Arians looked like he was in the process of forging a Hall of Fame portfolio. That 9-3 record as an interim coach with the 2012 Colts isn't included on his official resume, but Arians won Coach of the Year honors at Indy before being hired to resurrect the moribund Arizona Cardinals.
In those first three years in the desert, Arians went 34-14, making the playoffs twice and making the Cardinals relevant. That second Coach of the Year award came in 2014, when the Bucs were stumbling to a 2-14 mark under Lovie Smith.
The 2015 Cardinals opened at 13-2 and reached the NFC title game before self-destructing at Carolina with seven turnovers. It was all downhill from that point on for Arians, 15-16-1 before walking away to play golf and offer commentary as an NFL analyst.
Muddy Start
The Bucs never gave themselves a chance last season as a 2-6 start shattered any hopes of ending the NFC's longest playoff drought.
Jameis Winston took the fall, but there were other culprits. Tampa Bay led the league with 133 penalties — and that's on the coaching staff.
Special teams were subpar, costing the Bucs field position and points. At times, Arians was guilty of erratic clock management. His success rate on challenges proved to be challenging.
In 2020, errors by Buc players and coaches will have dramatic repercussions. This organization is all in and when that happens, mistakes are doubly damaging.
Brady wants to prove he can excel now that he's emerged from under Bill Belichick's hoodie. Arians wants to prove he's still got what it takes to run the show.
Assuming there is a 2020 season, these two prideful men figure to have two years together to make some history. If Brady didn't have faith in Arians, he wouldn't be here. He'd be with the Chargers or at home with Gisele and the kids.
Seeing Through The Mask
If Arians didn't believe in Brady, Philip Rivers might be under center at Raymond James Stadium, throwing to Evans and Godwin this fall. The difference is that Brady already is the NFL's Lord of the Rings while Arians has one playoff win as a head coach and a 22-25-1 record since 2016.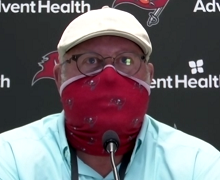 Arians can't wait to strap on that mask and face shield on the sidelines, within spitting distance of his players and fellow coaches.
The golf clubs have been shelved and he's ready to take a 7-iron to this franchise's appalling performance since Jon Gruden's departure. If the Bucs unseat the Saints atop the NFC South, or even make it to an expanded postseason field as a wild card, Arians would likely find himself in the Coach of the Year conversation.
That was once familiar territory, but three seasons without a winning record has changed the dynamic.
Byron Leftwich calls the plays but don't be fooled — Arians calls the shots. He's got Brady at the ready, New Orleans in his sights and his legacy at stake.
Even through a face shield and a mask, Bruce Arians can see a winning path.
He's a man on a mission, both for himself and his football team.
Enjoy Mike Alstott's June interview on the Ira Kaufman Podcast.


Bill Currie Ford
813-872-5555
5815 N. Dale Mabry Hwy.
Tampa, FL 33614
BillCurrieFord.com