"I'm All On Board"
July 14th, 2020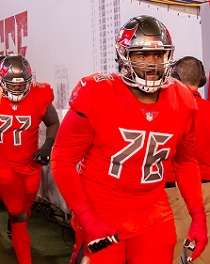 So how will the Buccaneers locker room react to Donovan Smith's very public declaration that he has no interest in being "a lab rat" for the NFL?
One player has responded in a big way.
Shaq Barrett hopped on NFL Network today and was asked about Smith's recent comments that revolved around his concern about the safety of playing football amidst "The Sickness" with a baby on the way late this month.
"It's most definitely understandable. I see exactly where he's coming from," Shaq said.

"We gotta figure out the testing process, and we gotta just see the protocols that are in place so he can assess the risk. With everything in place, is the risk going to be worth it or not? But I understand him 100 percent. I mean, this most definitely is the last thing you want to do is to come and infect anybody. … Me personally, I'm pretty sure we're going to do it the best way possible and I'm going to take all the safety precautions that we have in place so I'm all on board."
Joe understands Smith's concerns, too, and Joe is confident Smith will play this season — even if he absorbs hundreds of thousands in fines and doesn't show up until 10 days before the start of the season.
Shaq added that other than Smith he has not heard of any players considering possibly sitting out this season.