"Fall In Line With The Rest Of The Doubters"
July 25th, 2020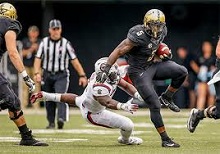 Many third-round-pick running backs have torn up the NFL in recent years.
Fourth- and fifth-round backs have kicked butt, too. But none have been wearing pewter and red.
Now the Bucs have a third-round rookie running back, Ke'Shawn Vaughn out of Vanderbilt. He's been hearing the naysayers and skeptics on social media and fired back via Twitter yesterday.
Reading all these disrespectful tweets that mention my name 🤣🤣🤣🤣. Fall in line with the rest of the doubters who hopped on the Vaughn train late 😁.

— Ke'Shawn Vaughn (@SneakVaughn) July 24, 2020
Last week, Vaughn joined a webcast with his college head coach, Derek Mason. Joe was intrigued to hear Mason laud Vaughn for his work ethic. "It was crazy to watch you practice because you practice with your hair on fire. You might be the best scout team running back in the country," Mason said.
A Vanderbilt graduate in December, Vaughn said in addition to growing as a player, he learned a lot in college about how to "uplift teammates instead of beating on them."
And that Vandy diploma is something Vaughn is excited to use after he completes a stellar NFL career. "I'll just pull it out of my back pocket and I'll be straight," Vaughn said.
Joe is excited to see Vaughn. What an incredible opportunity he has. Tom Brady is his quarterback and Ronald Jones isn't exactly A-list competition.