More Than Just 2020 On The Line
July 26th, 2020
BY IRA KAUFMAN
Mark Davis can be a bit of a buffoon at times, but he is one of only 32 NFL owners and his words have consequences.
Although the son of Hall of Famer Al Davis can't wait to roll out that shiny $1.8 billion stadium in the Las Vegas desert, Davis sounded a cautious note in a recent interview with ESPN.
"I don't know if it's safe to play," he said on the brink of training camp. "Uncertainty is the word."
Buc fans don't like that word. In fact, they hate it. Since Tom Brady came aboard in March, this franchise has been the object of national focus. Now, the season is looking a little blurry.
The NFL says it plans to open the 2020 regular season on time in Kansas City and end it as scheduled with a Super Bowl game in Tampa. Those plans, however, are subject to change because COVID-19 isn't following the game plan.
"Everything is up in the air with the virus and how it will affect our league and our season," Davis said.
A canceled season would be a bummer beyond belief for Buc fans. From Temple Terrace to Tierra Verde, the level of excitement about this team is off the charts.
Buc Nation would surely be in mourning if the coronavirus shuts down the sport, but there are other potential casualties to consider.
Deeper Consequences
Start with Brady, who turns 43 on Aug. 3. At this point in his unparalleled career, every year is precious. If the 2020 season is scrubbed, it's conceivable that the Brady family decides to move out of the Derek Jeter mansion and get on with retirement.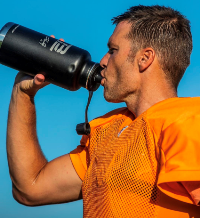 We know Brady's competitive nature would make it a difficult call, but is he really willing to wait until the fall of 2021 to throw the next pass that counts? Nobody should blame Brady if he turns in his playbook at that point, but man, what a giant letdown that would be.
Rob Gronkowski, who turns 32 in May, would also have to rethink his return to the game he loves. His future is likely linked to Brady's decision. If Brady stays, Gronk probably stays.
What about Lavonte David?
If the Bucs end a 12-year playoff drought this fall, David's national profile would be enhanced. All those prime-time games have to help his chances of adding a second Pro Bowl berth to his resume. If that happens, the Bucs would probably give David another contract extension.
But if there's no season, Tampa Bay might let David hit free agency in 2022 at the age of 32. figuring his best years are behind him.
Bruce Arians is understandably apprehensive about his daily regimen with the team. His age and underlying health issues will force him to change his routines at One Buc Place to minimize his risk to infection.
If the league doesn't resume play until September, 2021, Arians would be a month away from turning 69. What if Brady decides to retire in the interim?
Starting over at that age with a new quarterback can hardly be considered an enticing prospect for a 2-time Coach of the Year.
Vibe-saving
That brings us to the Glazer family, all in with Brady, Gronk and Arians. The cannons are ready to fire and Buc ownership can't wait to unwrap this package Sept. 13 in the Superdome — with an opportunity to show the 3-time defending NFC South champs what they're up against in 2020.
At best, the Bucs will play their home games before reduced-capacity crowds at Raymond James Stadium. But the TV revenues will continue to pour in and merchandise sales will soar if the team plays up to expectations.
A scrubbed season would be concerning to the Glazers on several fronts. There's the financial hit, of course, but they have the wherewithal to absorb a blow. What would hurt the most is the letdown from all this anticipation, triggered by Brady's presence.
Let's hope all this conjecture is moot and the 2020 season plays out as scheduled.
But if the league decides to pull the plug, all these good vibes will go gurgling down the drain.
Enjoy Mike Alstott's June interview on the Ira Kaufman Podcast.


Bill Currie Ford
813-872-5555
5815 N. Dale Mabry Hwy.
Tampa, FL 33614
BillCurrieFord.com