"Exposed, Once And For All"
July 8th, 2020
BY IRA KAUFMAN
Even DeSean Jackson can't outrun this one.
The former Buc free-agent bust gave his detractors plenty of new ammunition this week when he used his Instagram account to talk up Adolf Hitler and Louis Farrakhan. Quite an exacta, those two.
Jackson failed to obey the first rule of social media — never mention Hitler's name unless you plan on excoriating his evil intentions and deeds.
Jackson's posts are so offensive, they don't deserve to be detailed in this column, but let it be clear: he hasn't exactly been a paragon of unity during these troubled times.
My response is simple: dump his ass.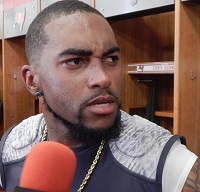 The league issued a statement condemning Jackson's remarks, but the weak executives at the NFL office are hoping this debacle gets resolved at a club level. Maybe it will, maybe not.
The football is now on Philadelphia's side of the line of common decency.
If the Eagles are worried about the cap hit in releasing Jackson, shame on them.
One of the few voices of reason in this atrocity is former Eagles president Joe Banner.

"If a white player said anything about (African Americans) as outrageous as what DeSean Jackson said about Jews tonight there would at least be a serious conversation about cutting him and a need for a team meeting to discuss," Banner said in a tweet. "Which would be totally appropriate. Absolutely indefensible."
Some Jackson apologists are pointing to a 2013 incident involving ex-Eagles receiver Riley Cooper, who uttered a racial epithet at a security guard after being denied backstage access to a Kenny Chesney concert. Cooper was fined but remained on the team.
Apples and oranges.
Cooper's reprehensible remark was said on the spur of the moment with no reflection. Jackson had all the time in the world to consider the impact of his unacceptable posts.
Dump his ass.
Since Jackson's posts surfaced, he's been on an apology tour, claiming ignorance. He says he meant no harm and would never demean a particular religion.
"Anyone who feels I have hate towards the Jewish community took my post the wrong way," Jackson said in a follow-up Instagram post.
If the Eagles won't act, the league should step in and suspend Jackson for smudging the NFL shield. Hitler needs no introduction while Farrakhan once labeled Hitler, "a very great man."
In retrospect, Jackson takes his rightful place in the lengthy roll call of Buc free-agent gaffes, joining Alvin Harper, Chris Baker, Anthony Collins, Michael Johnson, Derrick Ward, Eric Wright and countless others.
He took $23.5 million from the Bucs — and wasn't worth a plug nickel when it came to connecting with Jameis Winston.
It's still hard to believe Jackson's lack of production during two seasons at One Buc Place. He caught five TD passes from Ryan Fitzpatrick and only two from Winston. He averaged $258,000 per reception as a Buccaneer.
Hey, nice work if you can get it.
When the Bucs decided to move on from Jackson in 2019, they had to settle for a sixth-round pick from the Eagles. Jackson still had elite speed, but he had also developed a reputation for being a disgruntled employee, someone whose cynicism you didn't want rubbing off on young players.
Call it past interference.
Now Jackson has been exposed, once and for all. He'll be 34 in December, so let's not hear any drivel that he's too young to know better.
This wasn't an off-hand comment, which would be bad enough. This was a deliberate post from a buffoon with almost a million Twitter followers.
Dump his ass.
Enjoy Mike Alstott's June interview on the Ira Kaufman Podcast.


Bill Currie Ford
813-872-5555
5815 N. Dale Mabry Hwy.
Tampa, FL 33614
BillCurrieFord.com