Coincidence With Transactions?
July 30th, 2020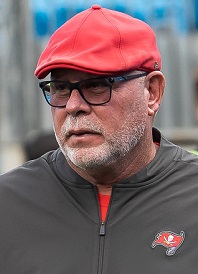 Last week, the Bucs brought in a guy one would think they had a lot of hope banked on: third-round draft pick Ke'Shawn Vaughn.
The rookie running back out of Vanderbilt was a second-day draft pick. With only Ronald Jones ahead of him on the depth chart, a guy the head coach has already groused about for his third-down ability (despite very good YAC), Vaughn seemed poised to get a ton of touches and maybe supplant Jones as the team's No. 1 back.
Then the news came two days ago: Vaughn was placed in COVID protocol. He either was around someone who had the virus or showed symptoms of the virus, or had a high temperature and was considered a risk.
Training camp this year, soft and abbreviated as it will be, is too valuable for a rookie. Every minute is precious because there has been no offseason outside of dudes throwing around a football at a high school.
Did Vaughn landing in the virus protocol — Arians said this week the NFL forbids coaches from commenting on players in the virus protocol — force the Bucs' hand?