Bowles And Baldinger Observations Clash
July 6th, 2020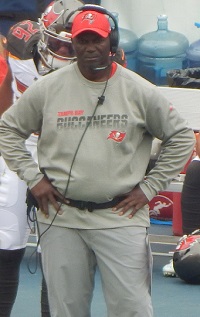 On May 28, Bucs defensive coordinator Todd Bowles chuckled when Joe asked him if he saw standout leadership or anything in Zoom meetings with players that would suggest one player might be showing great leadership or is impressively locked in.
Bowles sort of laughed off the question and said from his perspective he wouldn't even try to comment about getting a read on players from a Zoom meeting.
Jump ahead to today and put that exchange up against former offensive lineman Brian Baldinger's comments on NFL Network. You might end up scratching your head.
Baldinger explained that he was given access to join Zoom meetings for unnamed teams' "installation sessions," and he saw many standout players.
"What I've noticed is really leadership in the position groups," Baldinger said. "Really stepping up helping with the teaching, helping with just understanding terminology, what you mean by certain things. 'This is a call that isn't in the book but we use this in this situation. We did this in this game.' So I think leadership in each position has really been called upon during this quarantine offseason that we've all had to go through. And I think that you're seeing the leadership that you wouldn't have had to do in the past. … … I've seen a number of veteran players step up in their positions to help the younger players and players [new to the team]."
Hmm, That sure sounds a lot different than Bowles' take.
Throw in the fact Bucco Bruce Arians has stated he's avoiding virtual meetings with players and is holding back until he gets the team in person, and offensive coordinator Byron Leftwich made it clear, "I try as much as possible to stay off the computer," it makes Joe wonder whether or not the Bucs are winning the virtual offseason.
Joe just wants the Bucs to win each day, as Derrick Brooks would say. Sort of like how Pete Carroll claims his team did online.
Hopefully, word gets out that Arians and his giant coaching staff found ways to dominate the online offseason with innovation and elite engagement with players.