Brady Safer & Quieter But Not Good Enough For Finger-Wagging Media
July 6th, 2020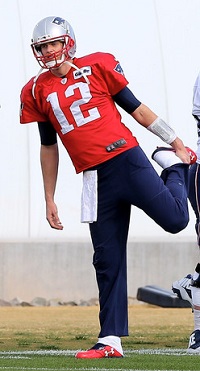 Joe has written about The War on Tom Brady, aka allegedly morally superior media types screaming about Brady working out mask-free with teammates legally in a private setting, despite players union doctors saying workouts like those should stop because they are unsafe with "The Sickness" around.
Joe's favorite Brady blasts seem to link Brady to infecting the community and, subsequently, killing people.
A good example from the righteous, finger-wagging crowd came via Tom Jones, of Tampa Bay Times sports fame, who still contributes to one of their podcasts.
I guess being respectful to your fellow citizens doesn't apply to GOATS, especially the arrogant ones. https://t.co/dqbHhcbVRW

— Tom Jones (@TomWJones) June 25, 2020
Joe brings this up today because NFL Network ran a feature about how Raiders quarterback Derek Carr's many workouts with teammates have had to change venues frequently to avoid them becoming a fan gathering.
Carr's brother David talked about how fans were starting to drive to Las Vegas from California to watch Carr and his teammates, and crowd-control became an issue.
Of course, the pundits aren't firing flame-throwers at Carr. It appears only Brady is drawing the heat.
So is that because Brady flaunted the sessions on social media, as some claim? Consider that since May, Carr has posted several videos of his various practices on his YouTube page. Brady, by contrast, was far more responsible in keeping the workouts at a private school with security to keep the public out. Brady also posted just a handful of still photos.
But Carr and other quarterbacks with multiple Pro Bowls under their belts play with teammates and are celebrated or ignored while Brady is torched.
Joe won't soon forget this nonsense.
(Carr's July 2 video is below:)